Game center warship grade classification standard:

Level 1 ship: Costs less than 70,000 gold
Level 3 ship: Cost is greater than or equal to 70 thousand, less than 170 thousand gold (a special example: a cost of 50 thousand gold coins Mk47 127 mm gun is also a level 3 ship)
Level 4 ship: greater than or equal to 170 thousand, less than or equal to 280 thousand gold.
Level 5 ship: more than 280 thousand, less than 640 thousand gold.
Level 6 ship: cost is greater than or equal to 640 thousand, less than 1 million 200 thousand gold.
VIP ship: cost is 1.2 million gold to 2.5 million gold
PS: Above refers to the purchase of the hull, engines, weapons, aircraft, the total amount of gold coins.
2.只计算除装饰以外的零件价值,即装饰用多少都不影响分级
1. Calculation in addition to the decoration of the value of the parts, that is, the number of decorative does not affect the classification
3.水晶价值换算:1水晶价值略大于1万金币(几乎相等)
2. crystal value conversion: 1 Crystal value slightly more than 10 thousand gold coins (almost equal)
Method for improving the mobility and speed of vessel:

Channel of propeller vacate three or four  blocks can get the best acceleration.
Underwater part of a ship,Reduce block or place inverted triangle can enhance the mobility of the ship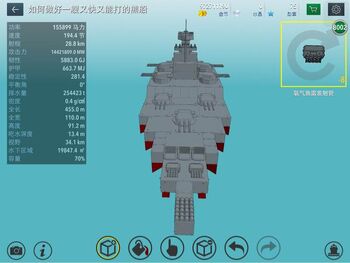 Ad blocker interference detected!
Wikia is a free-to-use site that makes money from advertising. We have a modified experience for viewers using ad blockers

Wikia is not accessible if you've made further modifications. Remove the custom ad blocker rule(s) and the page will load as expected.