Missions in Warship Craft refer to missions that are single-player which the user can play in order to get rewards. There are 28 missions in Warship Craft and all feature a similar objective of aiming to destroy all enemy ships. The difficulty slowly increases as the levels go on, along with the rewards.
There is also a wide variety of ships in the missions.
Mission 1: Duel Level 1
In this mission, you encounter the Victoria Class Battleship; a small ship armed with a few light guns. This mission is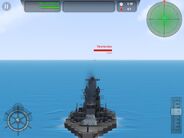 relatively easy. The ship has very light armor.
Objective: To destroy the enemy ship
Reward: 270 Gold
Ship Requirement: Prototype
Mission 2: Duel Level 2
In the next mission, you encounter the Illinois class Battleship; another lightship, The ship has slightly more firepower, but similar amour to that of the previous ship.
Objective: Sink the Ship
Reward: 480 Gold
Ship Requirement: Prototype should do
This is the first mission where you will encounter multiple ships. You encounter 2 Victoria-class and 1 Illinois Class. The ships all start in a line and won't change course (unless torpedo's or missiles headed their way). The mission is moderate for new players.
Objective: Sink the Ships
Reward: 650 Gold
Ship Requirement: A Prototype with upgraded parts could do the job
Mission 4: Eliminate the Enemy Transport Fleet
In this Mission, you will encounter four ships heading in a westerly direction. 3 of the ships, which are on the, far left, are transport ships, which are very-lightly armed. On the right is the Victoria-class. The will head in that direction, regardless. It is best to destroy the Victoria-class first as that ship has the most fire-power.
Objective: Sink all Ships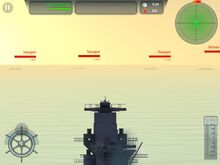 Reward: 720 Gold
Ship Requirement: Ship Similar to Mikasa
Mission 5: Dual Level 3
In this battle, you'll verse the Wittelsbach class-battleship; a small German destroyer. The mission is also in the fog, so shooting the target without being shot back is a major advantage. You might not want to get to close if you're a small ship though; it can pack a punch, but otherwise, this mission is easy.
Objective: Sink the Ship
Reward: 810 Gold
Ship Requirement: Mikasa (or similar)
Ad blocker interference detected!
Wikia is a free-to-use site that makes money from advertising. We have a modified experience for viewers using ad blockers

Wikia is not accessible if you've made further modifications. Remove the custom ad blocker rule(s) and the page will load as expected.