There is only one known mod out there for warship craft, This mod was started by the WSC youtuber Griffbolt and over time he picked up Ryax Ace to help develop the mod. This mod is only available for jailbroken devices. This mod only and always be a mod that only changes the appearance of the gun model, it does not change the price, damage, strength, ect or in any way does it make it worse or better. At this point there is only two versions 1.0 and 1.5 found, HERE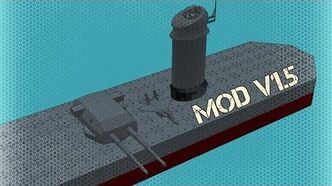 Here is a demo video
This mod still does not have an official name yet and is only known as the Griffbolt mod. Other than that newer versions of the mod are under way and ready to make more and continue to make more.
Ad blocker interference detected!
Wikia is a free-to-use site that makes money from advertising. We have a modified experience for viewers using ad blockers

Wikia is not accessible if you've made further modifications. Remove the custom ad blocker rule(s) and the page will load as expected.